The songs from the Sex Drugs & HIV album were made available to download on the 1st January 2012. The HIV project band: ROCK 'n' ROLL GYPSIES will also play shows to promote the album release and raise awareness for the charities:- Rape Crisis, Release (drugs), Terrence Higgins Trust (HIV+AIDS) & Cancer Research after my recent fight with cancer.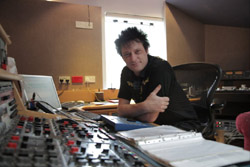 A few musicians on the project have since died of cancer;- Kelly Johnson (Girlschool), Paul Samson (Samson), Jez Bird (The Lambrettas), Paul Fox (The Ruts), Chris Townson (John's Children / Jet / Radio Stars), Poly Styrene (X Ray Spex) - also not forgetting; John McGeoch (Magazine / P.I.L), Wurzel (Motorhead), Min (Splodgenessabounds), Roly Wynne (Ozric Tentacles), Wally Nightingale (Sex Pistols / Swankers), Judge Dread, Dave Goodman also not forgetting Ronny Rocka (Splodge/Godfathers/Angelic Upstarts)who have also passed.
Album - Release and Promotion
Fund-raising shows with Rock'n'Roll Gypsies performing a live version of the album joined by many guests appearing from the album are planned to promote the album.
The physical release of the album will be available on the 2nd November through 'Amazon' and from our Merchandise page.