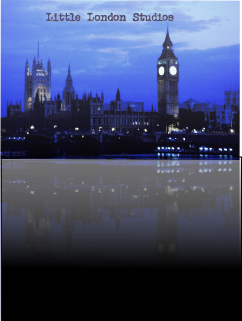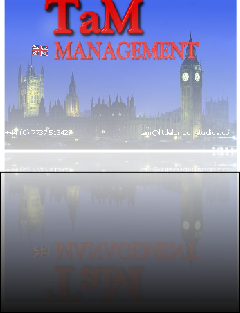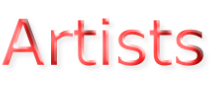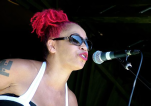 Blue Pulse - Blues/Rock with a collection of musicians from Audience, Max Splodge's Brass Revue and others. Album due for completion Spring 2012.
Audience - cult 70's British art rock band including original members Howard Werth and Trevor Williams
Jimmy Pursey - charismatic and energetic frontman of Sham 69 has now decided to reform the original band. The lineup includes Dave Parsons, Dave Tregunna and Mark Cain. The original Sham 69 is now hitting the road again with shows in UK, USA and Europe.
More information.
Jennie Bellestar Matthias - former lead singer with The Bellestars now with her exciting new band 1-Stop-Experience. Debut album 'Peeping Tom', mixed by Adrian Sherwood, was released Oct 30th 2011 and two more to be released shortly. Jennie is one hard-working lady! The band is extremely upbeat, infectiously happy and ready to bring their excitement to any event! Samples and more ...
Sex Drugs and HIV - TWO albums with FORTY tracks featuring over TWO HUNDRED musicians - and has taken Mat Sargent FIFTEEN years to put together. Next year look for the Rockumentary containing THIRTY hours of video footage shot during the making of the albums. All this is to aid four charities close to Mat's heart.
Check out website for full details.
Dave Sharp - lead guitarist in The Alarm. Now he's available as a solo acoustic artist plus band projects, The Roots Band - an eclectic mix of top class musos based all over the UK - blues rock with roots in the ethics of Woodie Guthrie. More exciting projects in the pipeline as the Roots debut album nears completion.
Check out the video of Dave's live interview on brfm radio (Real Player required)
Eric Faulkner - of the legendary Bay City Rollers. Eric also performs a solo acoustic set of self-penned songs - his lyrics tackling a variety of issues, political and social. Alternatively, relive the tartan-clad days with Eric Faulkner's Bay City Rollers, or if you're just after a straight rock sound - The Eric Faulkner Band will knock your socks off.
Bay City Rollers - what needs to be said?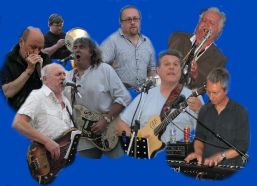 Electric Blue - a collection of talented musicians with credentials as long as your arm! Based on core unit of Blue Pulse with various additional players available at the time.
Among the people these guys have played with, supported, or been supported by, are: Hawkwind, Bad Manners, Letz Zep, Immaculate Fools, Audience, Winston & The Churchills, Henry McCullough, (Wings, Grease Band, Joe Cocker), Steve Marriot, (supported at the famous Dingwalls BBC recording of 1984), Max Splodges Brass Revue!!, Carl Verheyen, Wishbone Ash, Paul Rodgers & Queen, Amy Winehouse, David Gilmour and Jeff Beck!

Maureen Croissant Prairie joined 70's Canadian rock band Driver at fifteen. The road was a rocky one ending in tragedy when three of the five band members were killed in a car crash. Now, over thirty years later, Maureen has written the whole true tale of sex, drugs and rock 'n' roll under the title 'Crash and Burn'
In June 2011 Maureen, as an author, became the first non-musical signing of TaM Management.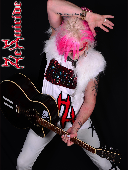 Stevie ZeSuicide - Formerly with UK Subs, Stevie is now pursuing a solo career. The debut album 'Dancing with Spiders' was produced by the late Trevor Bolder, David Bowie's bassist. This was followed by 'Auto Destructive', together with singles 'Freedom' and 'Bad Girls'.
Stevie writes his own material and the over-riding factor has always been to create an image to make him stand out from the crowd. Music is in Stevie's blood and it his passion, which is what always drives him on. www.steviezesuicide.com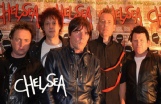 Chelsea - Original punk band from the seventies - still fronted by Gene October, and still going strong. Latest album 'Saturday Night Sunday Morning' now available and receiving rave reviews.